Translating emotions into language & mindful web design to unveil the soul of your wellness business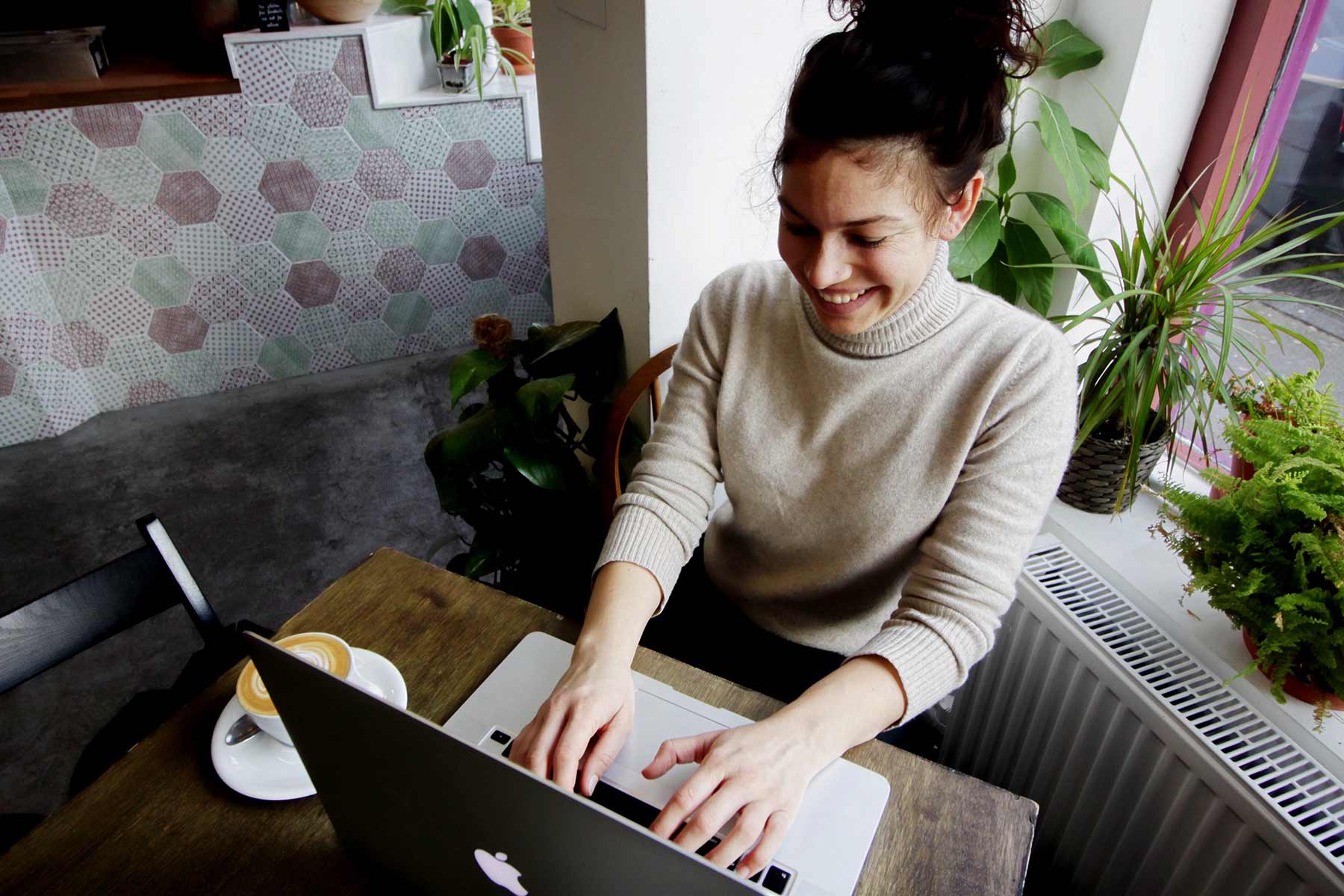 Your wellness business got you stuck between a rock & a hard place?
[But, isn't that how we find our limits?]
Have you been stuck between a rock and a hard place trying to grow your wellness business? Do you need to get out of your own way? Competition. Windbaggery. Regulations. Roller coasters. I hear you. It's so easy to feel exhausted [especially as an introvert doing marketing]. Perhaps you don't even have a website yet or the one you have is so embarrassing, you never even mention it.
You are not alone.
But, the truth is that even facts will not change first impressions.
And, a website is a huge part of your storytelling. Yet, without strategy and brand positioning, your website will underperform, every time.
It's time to do things differently. Before, I tell you how I will challenge the status quo of your business with a new website that is both functional & beautiful, let me ask you a question: Does any of this sound like you right now?
NO TIME FOR ANYTHING
You waste time on strategies that don't work (like endless social media posts), but know that your time is better spent following a plan...yet you lack direction. At the end of the day, it all feels like a blur.
EMPTY CLIENT ROSTER
You want to build a new website, define what makes you different, or create a funnel so you can fill your client roster but you feel overwhelmed…too many options, foreign words, where to start, how to start.
STRESS & EXHAUSTION
You are driven by your soul's purpose, but lately marketing is sucking the life out of you. You see others running their business successfully, but don't understand how they do it or what you need exactly.
Look inward first so you can act outward with greater clarity.
Because even facts won't change first impressions when it comes to your site.
[I will create you a mindful website using thoughts, feelings, and motives that unlock the full potential of your offer so you can make a lasting impact as a wellness entrepreneur.]
When was the last time you took a pause?
The word introspection comes from a Latin word introspicere, which means "to look within." According to Brittanica, introspection is "the process of observing the operations of one's own mind with a view to discovering the laws that govern the mind."
In web design, introspection is a vital element that is built on self-awareness first. That is where the initial enhancement needs to take place. The art of introspection in web design fundamentally asks the following question: How do you enhance your ability to perceive life so that others can perceive you in your most authentic state on your website?
You must take the time to examine your attitudes, beliefs, intentions, emotions, representations, and experiences. This process of self-shaping is a fundamental part of my web design approach at Introspec for all wellness websites.
The next part is all about strategy and brand positioning. Your wellness website is a huge part of your storytelling. Your purpose and brand story must be vividly communicated through videos, text, and images. To increase your search engine rankings, your site must be focused on user experience. Understanding what keywords your target client is using when they are searching for you is a huge part of your site's discoverability on Google.
The following 5 elements should be a crucial part of YOUR website development process:
Your purpose, core values, vision and differentiation should be clearly communicated to ensure your positioning is identified and you can create a leading edge as a wellness entrepreneur.

Your website needs be simple, easy to navigate, modern and eye-catching.

Your website copy should be relevant, targeted (niche), and educational because your web designer should take the time to understand your clients, the keywords your target market is using and your industry.

Your website must be an extension of your brand. Your web design should begin with a strategic roadmap that ensures the branding consistency and exposure of your most authentic self. With this integral self-understanding, you can find and retain the right customers so that the value you bring can be multiplied.

Your website must contain strategic conversion opportunities and calls to action that build your email list & grow your tribe, so you can have a site that is both beautiful & functional.
Your calling is my calling...
Mindful websites tap into emotional intelligence...
[TO BUILD AUTHORITY & INSTILL TRUST]
So, why is it when you are having a bad that everyone else is rude?
Hi. My name is Lana and I am a huge believer in the power of introspection in marketing.
My secret weapon is EI (emotional intelligence). You see, I build mindful wellness websites by tapping into emotional intelligence to capture the interest of your target market and position your business as an authority in your space. EI is all about understanding how emotions drive the behavior to create an impact--especially during stress. Your web design will start with a strategic roadmap that ensures the branding consistency and exposure of your most authentic self. With this integral self-understanding, I will help you find and retain the right customers so that the value you bring can be multiplied.
Now, truth bomb: I am also a huge Type A introvert (I dare you to find a marketer with a higher introversion score on Myers-Briggs)! But, I go from quiet to convincing when you least expect it. I have an MBA, years of marketing and leadership experience in the corporate world and, a lot like you, I still had a lot to figure out as someone in her first year of entrepreneurship.
Gasp. You see by a lot, I mean I was the ultimate note taker and I paid careful attention. Teacher's pet. My bosses loved me. For the most part.
Why does this matter?
I was still stuck my first year in business. Even, terrified.
As it turns out, corporate success doesn't make starting your own business any less painful.
But, it's all good because I don't give us easily.
And…
Now, I get to build memorable websites for introspective health & wellness entrepreneurs that attract, engage & convert.
Functional & engaging design + copy your clients love.
Your web design shouldn't be about hype.
Or, tricks.
I am guessing that this is probably not the first time you are searching for answers. But, there is a lot of information out there, and it can be confusing. Many times, it is the information overload that prevents you from achieving your goals.
It's not just you. I've formerly been diagnosed as someone who suffers from paralysis analysis, too.
So, let me ask you a question:
Regardless if you are a new wellness entrepreneur or one who has been practicing for a while, does any of this below sound like you right now?
You are missing the roadmap to profitability and success.

You are doing too many things without much impact.

You feel overwhelmed with all of the information.

You don't know where to start & waste time on social media.

You don't understand the technology & marketing lingo.

You don't know how to create a funnel or a strategic website.

You struggle with getting leads and ideal clients.

You have no consistent revenue & struggle with positioning.
And, if yes, does any of this sound like you—especially when you are feeling in alignment:
You are a wellness advocate

You are introspective

You have strong beliefs

You act on insights

You follow through

You go beyond the physical

You can be relentless in your pursuit of excellence

You cultivate authentic relationships

You recognize the individuality

You always need a cause
If yes, you are a lot like me. I think we may be a good match.
And, one more thing…
It also means you live in a world where you can have sensitivity and conviction. In a world where you can be both quiet and convincing. Kind of like, when you are soft spoken 90% of the time and take over the room the other 10% because it's about something deeper. It means you have an immense desire to help people, but also need your time tucked away and hiding from the world.
I hear you. I am you.
Now, you want to know a secret? Introspection can be your most powerful business tool when used & understood. You can use it to create a differentiation advantage including:
How you will distinguish yourself from others doing the same thing

How you will create a specialized competitive advantage

How you will serve your target market better

How will you improve your presence
But, that's just part of the story. And, I can't wait to hear yours. Check out my services below to see how we can work together.
Hire-Me Bay
[I build it like a pro]
Because you got your to-do list and building your site is not your cup of tea, baby! Hire-Me Bay is for you if you're all set to hand over the struggles to me, so I can build you a new wellness website that is memorable & functional in just 7 days. Building a strategic wellness website requires a bundle of marketing skills (copy, design, conversions, psychology & SEO just to name a few) and you are self-aware enough to realize that you don't have the resources to learn it all right now. You value time & expertise and don't want to fall short!
DIY Study Nook
[You learn it like a pro]
Because if you are determined to learn, you are unstoppable. DIY Study Nook is for you if you are ready to identify what makes you different, find your voice, create your target market profile, and learn how you can build your wellness website in a way that is both engaging, quick and simple. Study Nook is also your place for funnel training. It's fundamental. It's deliberate. It's transformational. You will gain immense clarity. And best of all, you will feel empowered beyond belief as you see your purpose come to life.
Freebie Retreat
[Free stuff you'll love]
Because you don't really know me that well yet--who am I again--but you still want to move in the right direction. And marketing (much like your life) seems to move at the speed of light these days. Yet, most nights you find yourself in a blur. Freebie Retreat is for you if you are done looking back and ready to invest in actionable and valuable resources to move your wellness business forward FOR FREE. Slowing down can be a power move. But, careful. Your time is the most precious resource. And you know what they say, "If not now, when?"
Mindful web design is a great fit for you if you fall into one of these wellness industries…
Webinar Funnel Blueprint: [Free for Limited Time Only]
Fill your client roster using my webinar funnel blueprint that gives you a proven checklist you need to complete your webinar funnel without getting overwhelmed by tech even if you lacked the willpower in the past so you can:
Attract leads that match your ideal client profile--leads you love to work with

Fill your client roster by converting those leads to clients through workshops & webinars that make a lasting impact

Add value & build trust so you can become a leader in your space without chasing vanity metrics

Use a webinar funnel as a powerful lead magnet for the done-for-you program you purchased--every time!
#knowyourself
-Introspec Marketing